Camera Critters: One of my Office Assistants in Action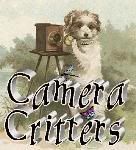 Camera Critters
has a very cute meme every Saturday. Since I'm
obsessed with
always taking pictures of our cats, I thought it would be fun to partcipate sometimes. For this post, I'm sharing some pictures of one of my office assistants, Miss Dixie Belle.
Anytime I'm at my computer, I usually have an office assisant cat nearby. Here is Dixie sitting at
her
my desk. Do you think she knows she's having her picture taken?
Here she is posing behind her "name plate."
As you can see, she is very sophisticated.
Here she is checking to see that her named is spelled correctly.
Here she is relaxing while pondering our latest post.
And here she writing a post or perhaps it's a letter to the editor, explaining why she should get a raise.
-Jerri