Scrappy Gifts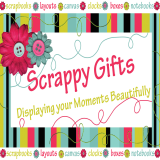 I'm happy to introduce you to my newest sponsor
Scrappy Gifts
. This site is owned by Maryanne Nelson, a stay at home mom of one little boy and an avid scrapbooker. Maryanne sells a variety of handmade items, featuring---you guessed it---scrapbook paper! But apart from this, she also hosts monthly Online Crops at her
Blog Frog Community
.
What's an Online Scrap Crop?
It's basically a scrapbooking get-together.
You can do it alone or get some of your friends together and scrap. Work on any scrapbooking, paper crafting, or cardmaking related projects anytime during the crop. Then take pictures and share them on Maryanne's Blog Frog Forum (
http://theblogfrog.com/935825/forum
). You can also discuss anything from scrapbooking tips, to latest tv shows, to your kids.
Challenges, Games, and Prizes are involved! And if you invite a friend and they participate, you automatically will get a prize! Your friend just has to leave a comment saying that you invited them.
(You can also contact Maryane if you'd like to participate or offer prizes.)
And everything is online, so you can be in the comfort of your own home.
Products
On Maryanne's website you'll also find a variety of creations that are premade and up for sale, or you can order a custom made item to fit your own personal style.
Some of my favorite items in her shop are her Scrappy Canvases. These are beautifully made. They come in a variety of designs and are very stylish. And the bright colors will really make your room pop. Another item that will add style and flair to your rooms is the Scrappy Clock. Just imagine ordering a custom clock to match your child's room decor. Or perhaps you'd like something to brighten up your home office or some other room in your house.
And if you're looking for a fun way to show off your photos, you'll love Maryanne's Scrappy Boxes! The boxes currently available at her website are too cute for words. And I'm sure a customized version would be a keepsake you'd cherish forever.
And for all you lovely ladies who like to scrapbook yourself, Maryanne also sells scrapbook layouts, and she offers the sweetest calendar scrapbooks for "1st Year of Marriage" and "Baby's 1st Year." She even gives you the option to order these fully embellished!
Disclosure: Scrappy Gifts is a paid sponsor on Simply Sweet Home. All companies and products are evaluated by me, and I only endorse products I believe in. Product information is provided by the sponsor, but the opinions are my own. If you'd like to advertise on Simply Sweet Home, please see my
PR Page
.